Au milieu des préoccupations croissantes en matière de santé concernant la propagation du COVID-19 aux États-Unis et sur les conseils des autorités sanitaires et gouvernementales locales, Steve Aoki, Dim Mak, et YM&U Group confirme que les dates restantes de la tournée «Neon Future IV: The Color of Noise Tour» en Amérique du Nord seront reportées jusqu'à nouvel ordre. Cela commence avec le spectacle de ce soir à la Byline Bank Aragon Ballroom à Chicago, IL, comme le premier à être annulé en raison du mandat de la ville.
Aoki a commenté: "Je suis vraiment navré de dire que ma tournée Color of Noise devra être reportée. Non seulement les autorités sanitaires locales et les gouvernements l'ont recommandé, mais je veux également m'assurer que vous restez tous à l'abri du virus COVID-19. Nous sommes en train de reprogrammer la visite et nous aurons plus d'informations pour vous dès que possible! Tous les billets resteront valables pour les nouvelles dates à confirmer. Veuillez contacter le vendeur de billets si vous souhaitez plus d'informations. Je serai de retour et j'ai hâte de faire la fête avec vous très bientôt. Plus de mises à jour bientôt à venir. Restez en sécurité tout le monde. Répandez l'amour et l'empathie, pas la peur et la haine. Beaucoup d'amour !! "
Neon Future IV le sixième album studio de Steve Aoki, devrait sortir bientôt cette année.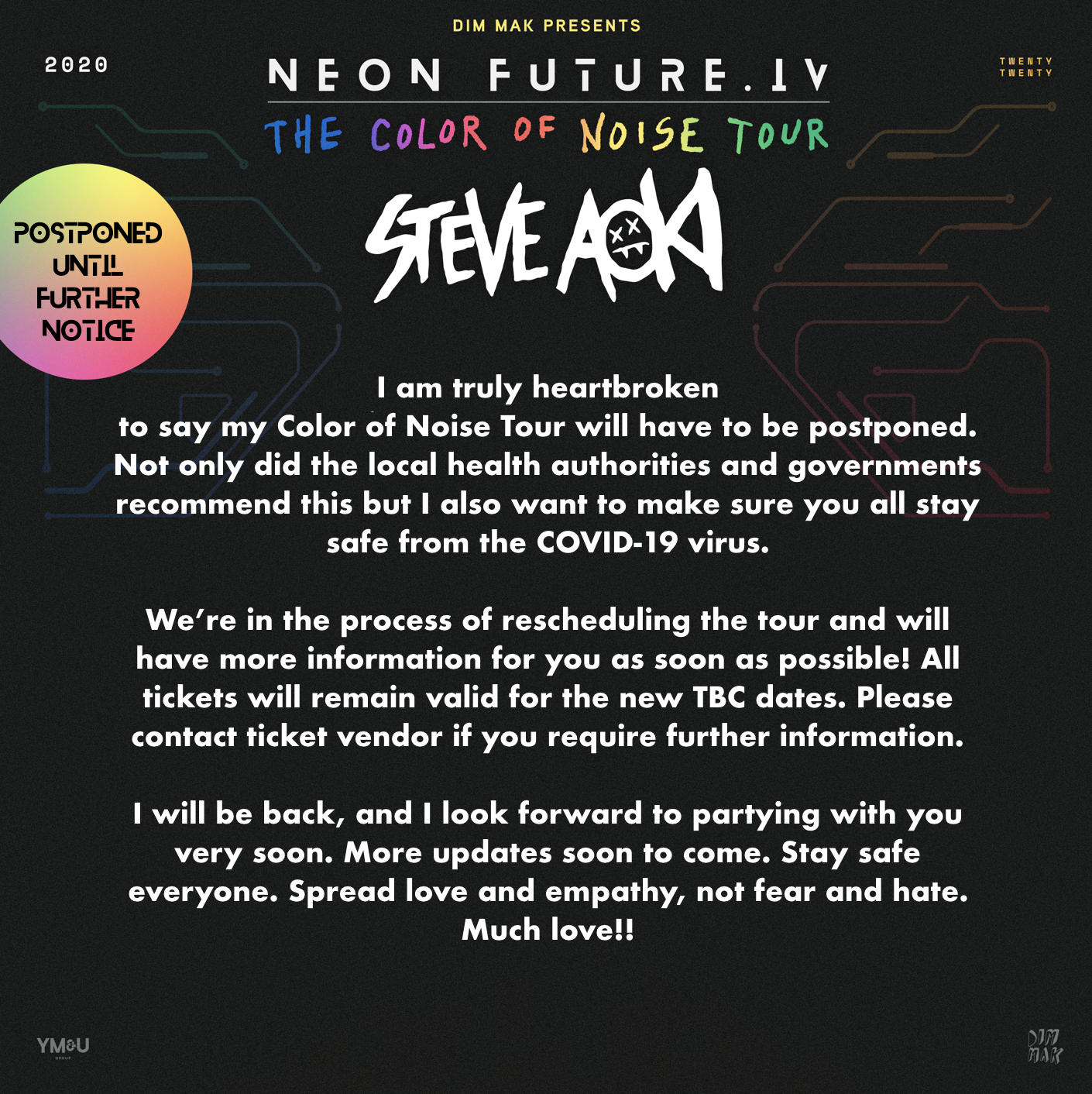 Photo via Rukes.com